1. Switch the numpad to BT Mode. The mode switch is located on the backside of the numpad.

2. Select which Bluetooth profile to connect to by pressing FN key and 1, 2, or 3 key together. For example, when pairing with BT profile 1, hold down FN+1. Once successfully connecting to BT profile 1, the BT1 Indicator Light will flash quickly as connection is establishing for five times before dissapearing. During the first time connecting, the numpad will default to Profile 1.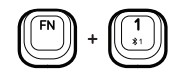 3. Put the numpad in Pairing mode by holding down the FN key and DEL key for a few seconds until the BT Profile Indicator Light goes from a quick flash to a slow continuous flash. The numpadis now in Pairing Mode.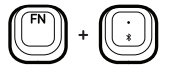 4. For Mac, navigate to 'System Preferences' and select 'Keyboard.' Next, click on 'Set Up Bluetooth Keyboard.' For Windows, go to 'Bluetooth Settings' and select 'Add Bluetooth or other device.' Once the setup wizard finds 'IZO_KB,' click 'Pair.' Once pairing is successfully completed, the numpad backlight will stop flashing. The numpad is now ready for use.
The IZO numpad supports up to 3 Bluetooth devices simultaneously. Activate each connected BT device/profile with these key combinations: "FN+1", "FN+2", or "FN+3". The default profile is BT1, and in order to switch profiles, use key combinations of "FN+2" or "FN+3" with the previous set of instructions to pair with other devices.