The IZO Keyboard is a versatile keyboard that supports MAC and PC and can be connected wireless via Bluetooth or wired USB. The operating system selection and interface mode switches are both located on the backside of the keyboard.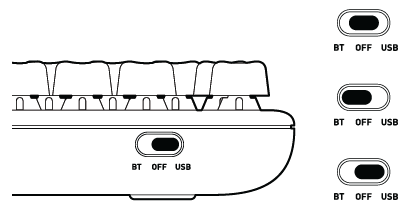 OFF:
In OFF mode, all circuitry is off. This is ideal when the keyboard will not be used for an extended duration of time. Please note that the keyboard can be charged while in OFF mode.
BT:
In BT mode, you may connect the keyboard to your computer wirelessly. While in Bluetooth mode, the backlight will automatically turn on.

USB:
In USB mode, please connect the included USB Type-C cable to the keyboard and your computer. While in USB mode, the keyboard will automatically begin charging and the backlight will turn on.